What is Comedy Night?
Comedy Night the game for PC can be obtained on Steam. The game was released on 24 Aug, 2017 and is surprisingly a really fun game! If you think a game where you can be a virtual comedian is for you, then give this game a try!
Just the social interaction and funny dialogue between other real people is enough to offer hours and hours of limitless content for you! You can choose between different categories and enter lobbies according to what you want to do.
Want to sing? Well you can! Want to rap? Well, there are rooms just for that as well! Mature jokes? Kid friendly? You got lobbies for all those things.
What makes Comedy Night great?
Well, it's not just a virtual chat box, the truth is, and the game mechanics and art style / character design of the cartoony people is also amazing! The goofy characters will make you laugh alone! There is a large amount of customization you can do for your character, so you can make them as goofy as you want!
Rap battle with your friends, and show strangers too!
You can actually rap battle in Comedy Night, even if you are not very good at rapping, don't be scared and give it a try. You might be surprised by just how fun trying to make things rhyme on the spot is. Even if what you say ends up sounding really awkward, that will also make people find you hilarious!
What's the most fun?
Well, the core of Comedy Night is still….comedy! So that means jokes, skits, improv and such. It might be hit or miss sometimes, but it's still surprisingly easy to find lobbies where people are actually trying to make each other laugh and have a good time. This is your time to shine as well! You can share with people all those jokes and funny one-liners you have been saving up all these years!
Not happy with your voice?
In the character select screen, you can also change your voice pitch. So what this does, is it changes your voice to a lower or higher pitch. This disguises your voice and makes it sound whoever you want till you are happier with your voice. Also you can make your voice even funnier! By choosing to go with a squeaky or very deep pitch, you can sound like an opera singer or even a squirrel!
Why should I buy this game?
Well, if you don't want to buy Comedy Night yet… Maybe the really low cost of only 5$ might convince you to giving this game a try. The game is extremely cheap, and potentially hours and hours of fun! So what are you waiting for!
You can buy Comedy Night from the link below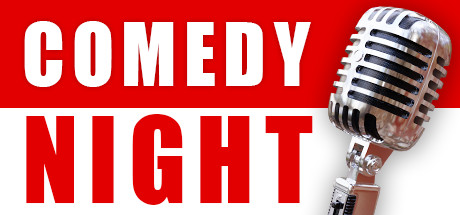 Developer: Lighthouse Games Studio